How to install Newa Keyboard in Windows 10 / 8 / MAC OS and type in Newari Font
Guidelines to use Newa Keyboard traditional Bakamana style to type in newari font in Windows 10/7/Vista/XP and MAC OS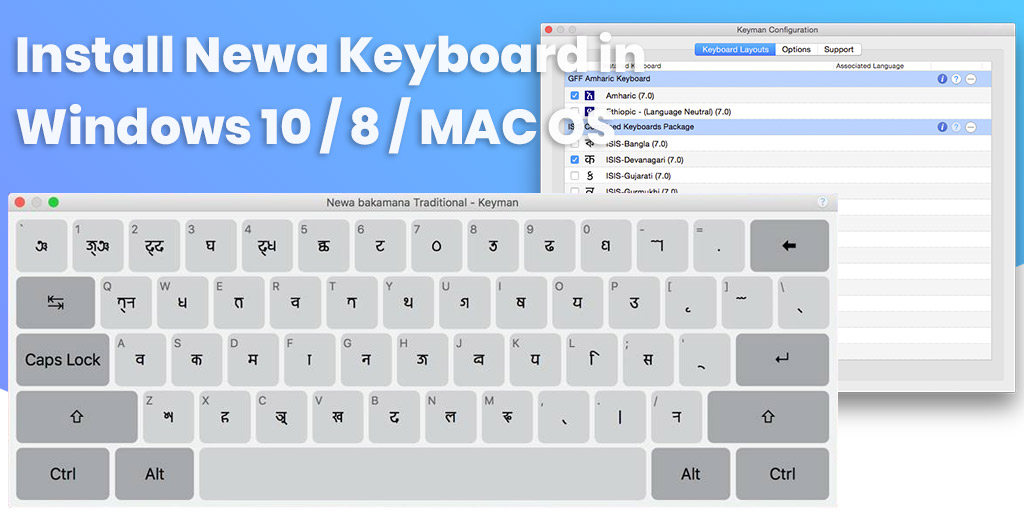 Step 1: Download and Install Keyman Desktop Software for windows https://keyman.com/desktop/download.php and for mac OS https://keyman.com/mac
What is Keyman Desktop?
Keyman Desktop is a program that reconfigures your keyboard to type in another language. This download provides a simple installer for Keyman Desktop for your language. Start by typing the name of your language and clicking the Search button.
Keyman Desktop 10.0 is compatible with Windows 7, Windows 8, Windows 8.1 and Windows 10. If you have an older version of Windows, please download Keyman Desktop 8.0 from our archived downloads page.
Step 2: Once keyman software is installed, then you need to install Newa keyboard. Newa keyboard will works on both windows and mac. Download Newa Keyboard and install it. Now you are able to use newa keyboard inside keyman software to type in Newari font easily.
Step 3: Download  "Noto Sans Newa"  NEWA Unicode Font and install it.
Step 4: Select keyman icon to change between newa and eng keyboards from taskbar. NEWA keyboard works on Google Docs on both browsers Firefox and Chrome by making some changes on app settings.
Let us know if you find any issues on installation of keyboard and font.
How to install Newa Keyboard in Windows 10 / 8 / MAC OS and type in Newari Font